Healthy Recipe of the Month

Baked Fried Fish!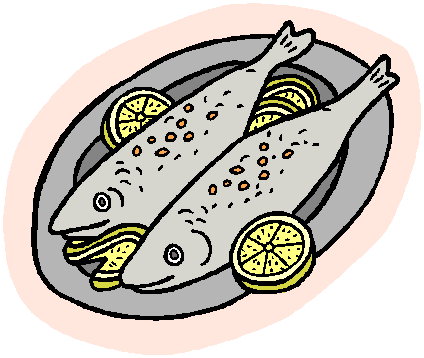 Ingredients:
Drizzle of canola oil
1/3 cup coarse, fresh whole wheat bread crumbs
1/2 tablespoon grated Parmesan cheese, made with skim milk
1/8 teaspoon dried dill weed
1/8 teaspoon lemon pepper
3 Tablespoons egg whites or egg substitute
1/2 pound white fish (e.g., orange roughy, sole, halibut, cod)
2 teaspoons earth balance, melted
2 thin slices fresh lemon
2 small sprigs fresh parsley (optional)
Directions:
Preheat oven to 400°. Lightly drizzle a small, shallow baking pan with canola oil, use paper towel to spread. In a small, shallow dish, combine bread crumbs, cheese, dill, and lemon pepper. Put egg in another shallow dish; beat lightly. Dip fish in egg, then in crumbs, repeat until all crumbs are used. Place fish in the prepared baking pan; pour margarine over fish. Bake in a 400-degree oven for about 15 minutes or until fish flakes when tested with a fork. Garnish with fresh lemon wedges and parsley.
Servings: 2
Nutrition Analysis per Serving:
268 calories
13 grams Carbohydrates
29 grams Protein
9 grams Fat