Products Information
The Livitician® Network recommends selected foods, supplements and even kitchen appliances that can significantly contribute to your optimal wellness. We strongly suggest all supplements be taken under the supervision of a Registered Dietitian or other Healthcare practitioner.
Please contact Deborah for her recommendations to meet your individualized needs. Deborah@Livitician.com

Deborah is the author of a book titled: 200 SuperFoods That Will Save Your Life, published by McGraw-Hill, released January 2010.

---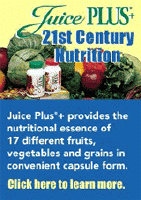 Juice Plus - 17 Fruits & Vegetables & Grains.
Whole Food Nutrition in a capsule.
Available at www.LivitJP.com

Whole Food Nutrition in a Vegetable Capsule!

Click Here

---
Meta eHealth.com - Health products and health information.
Click here: www.livetician.meta-ehealth.com

METAGENICS- GENETIC POTENTIAL
Through Nutrition - Nutrition Supplements To Reach Your Optimal Balance!

---
Unicity Health Products


One of Unicity's unique contributions to making life better is our nutritional products. Unicity formulates the most complete selection of high-quality, potent, safe, effective, scientifically-based nutritional supplements available anywhere. In addition to offering all of the familiar products, we're proud to offer a wide selection of proprietary and "breakthrough" products, all developed by our dedicated team of scientists and researchers.
Click here to purchase Unicity

---
Kangen Water
Eat Clean, Drink Clean - Enagic USA Kangen Water - Change Your Water, Change Your Life
http://moreinfo.mykangenh2o.com
http://yourbody.mykangenh2o.com

---
Vita-Mix


A whole food diet is the key to a long and healthy life. New recommendations encourage consuming more fruits, vegetables and whole grains every day. This is easily accomplished by eating terrific-tasting, nutrient-rich whole food meals made in the Vita-Mix machine.
Imagine...






Cooking soup from scratch that's hot, hearty and satisfying in just 4 minutes.

Making whole food juice that's full of fiber and flavor in under a minute.

Making frozen treats that are full of fruit and low in fat in only 30 seconds.
Grinding fresh whole grains into flour and kneading dough for healthy home made bread in one 5-minute operation.

Click an image to view a live demonstration *Flash Player Required

Start your 30-day no-risk
in-home trial today and we'll
give you FREE Standard
Ground Shipping


Click here to get started!

To Place an Order by Phone, Contact:
Brenda Kilbane 1-800-848-2649 Ext. 2305
---
Free Resources
Nutriant.com - Nutrition, Healthy Living
Contact a healthy living expert now over your phone with no long distance internationally.